Our updated reports are as follows:
05/10/23 - Denbighshire v Flintshire @ Wrexham GC
On Thursday 5th October, the DGU Seniors hosted their Flintshire counterparts, captained by Karl Lurz.
Trailing 8-7 from July's encounter at Mold GC, the Welsh Inter-Counties Runners-up for 2023 set off strong with Phil Guest & Mark Garner (W3&2) and Karl Griffith's & Stu Fisher (W5&4) securing four points.
Flintshire hit back with Kevin Jones and Medwyn Jones beating Ray Ledsham and an under the weather Allan Merrill leaving the match finely poised.
Veterans Arthur Jones and President George Smith secured a vital half which made the aggregate score 12-11 with one match left.
Having been beaten at Mold GC, Steve Merrill & Team Captain Martin Jones were determined not to let it slip again. All square at the turn, both sides birdied twice for wins on the back nine, with one hole to go, Steve secured a half with a four, Karl matched it, with Martin leaving it alongside the hole to complete the match as a well deserved half for both pairs.
Overall Denbighshire won 13-12 and Karl presented Martin and the Denbighshire Team with a miniature Miners Lamp, which has historical themes for both counties, to be held for 12 months and hopefully this will start a long standing fixture between both counties at Senior Level.
Captain Karl Lurz thanked Wrexham GC for hosting the match, the condition of the course, despite the wet weather of late and the fabulous Chicken Dinner from Julia's Catering.
We all look forward to next year's fixture.
For 2023 that leaves Denbighshire Seniors unbeaten against Dyfed, Shropshire & Hereford, Brecon & Radnor and now Flintshire.
We all look forward to 2024 where Caernarvon are set to enter the fray, such is the interest developing in North Wales in Seniors Golf.
Martin Jones
Denbighshire County Seniors Scratch Team Manager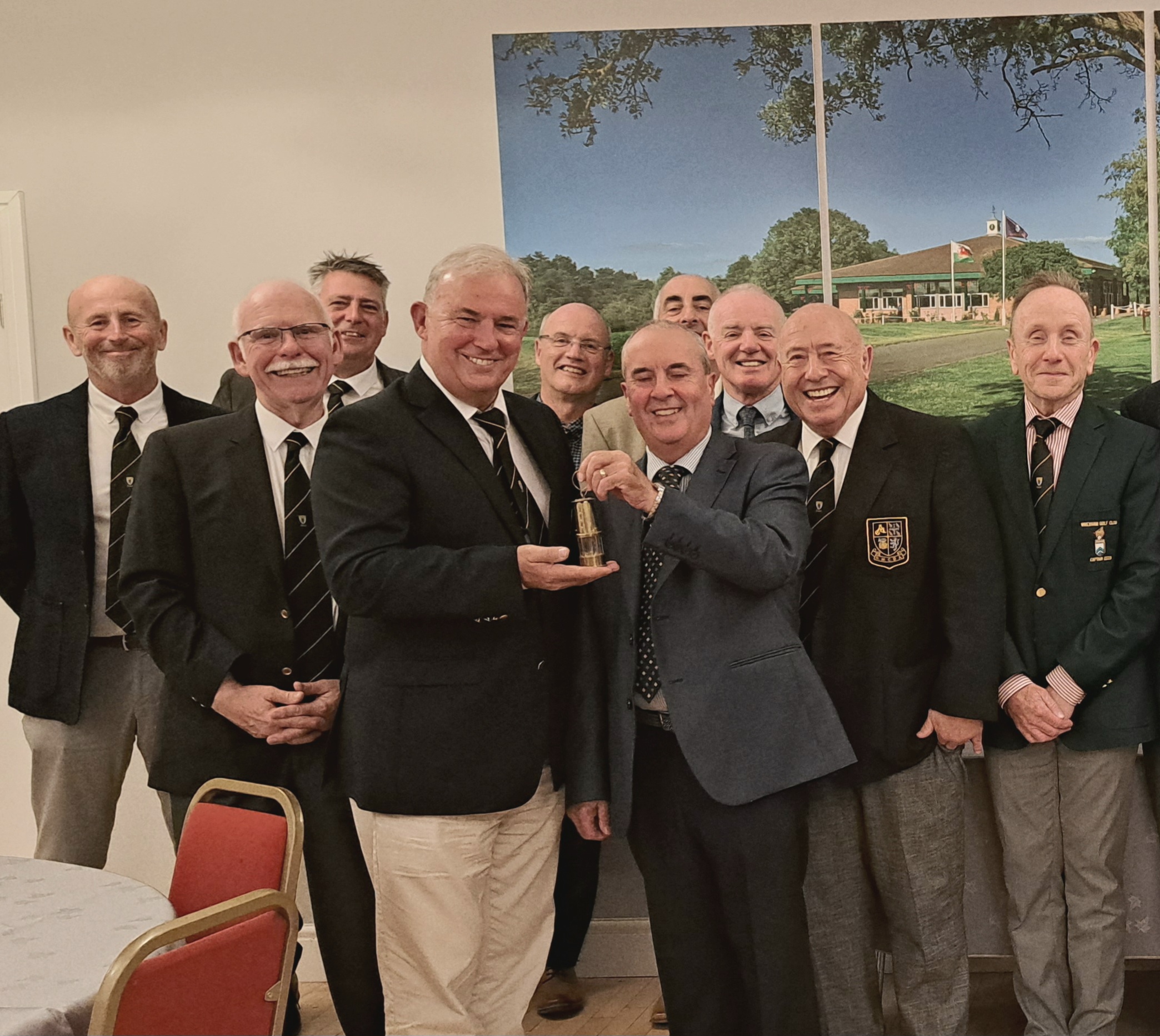 13/7/23 - Flintshire v Denbighshire @ Mold GC
The revived fixture against our neighbours Flintshire was held @ Mold GC on a beautiful Summers Day.
Losing the Greensomes 4-1 in the morning, our point coming from Karl Griffiths & President George Smith, Denbighshire came back fighting with wins for Stu Fisher & Paul Sweeney; Arthur Jones & Ray Ledsham & the unbeatable Karl Griffiths and George Smith.
For once, our Team Manager and The Merrill Brothers could not contribute to the result, but with the return fixture to be held @ Abergele GC in September, there is chance to rectify that with the match closely poised @ 8-7 in Flintshire's favour.
4/8/23 Annual Friendly v Narwhals @ Denbigh GC
Four pairs contested the annual fixture in the rolling Clwydian hillsides on a beautiful Friday evening on a well presented Denbigh GC course.
Karl Livingstone & Paul Johns chalked up the first win only for Keith Miller & Allan Merrill to be defeated by a local pairing of Andy O'Loughlin & Hadyn Phillips.
Dave Shepherd & Ray Ledsham fought out a half, despite Dave losing his 5 iron to a 'grip slip' on the 7th tee......allegedly, never to be found again...!
With the match finely poised @ 1.5 - 1.5 points apiece, the anchor leg of Martin Jones and very steady debutant Iwan Bonds saw victory on the 18th green against local legend Arthur Jones and our conflicted President and Narwhal George Smith.
Overall result: DGU Seniors 2.5 - 1.5 Narwhals
-----------------------------------------------------------------------------
The month of August also sees two more fixtures against Brecon & Radnor (a) @ Brecon GC on 25th and also Shropshire & Hereford (h) @ Llangollen GC on 30th.